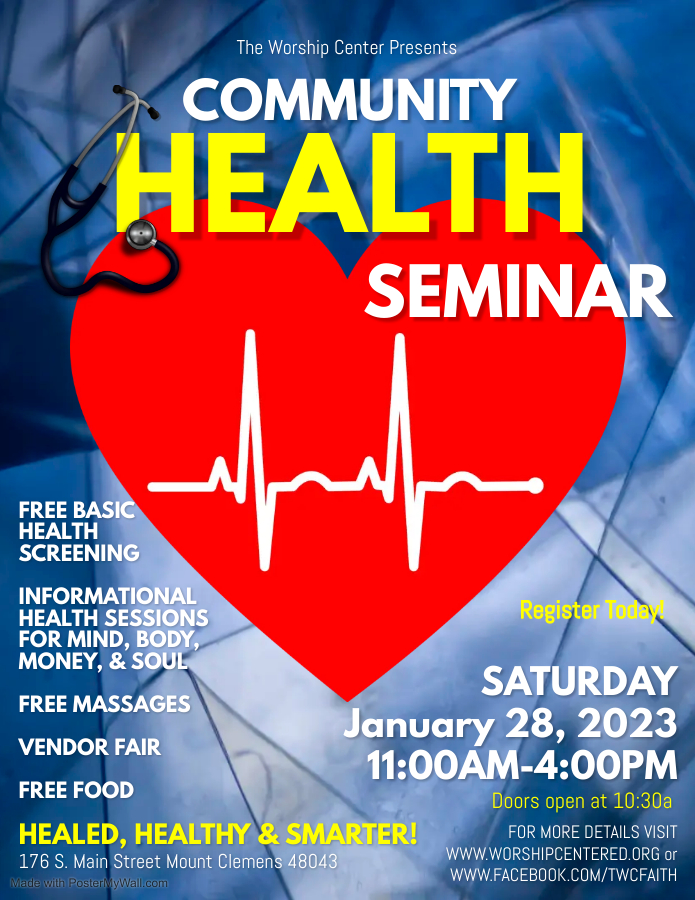 Free Community Health Seminar
This year, we will be healed, healthy, and smarter! Join us for some powerful sessions on mind, body, money, and soul!
***
***
WHAT TO EXPECT
1. Our in-person services will be a physically-distanced gathering with a maximum of 100 people in our auditorium. Our usher teams will assist with the seating process prior to each service. Please be prepared to follow signs that direct where to enter and exit as well.
2. Because of the reduced auditorium capacity, a reservation system has been created to ensure safety and social distancing. Once your ticket(s) is reserved, your name(s) will be added to our guest list for a quick, no-scanning entry process – just state your name to our usher or host.
3. Mask or face covering while inside our buildings are optional.
If you have experienced any COVID-19 symptoms or have been around someone exposed or potentially exposed, please stay home for the safety of others, and join us online.
Please be prepared to follow signs and directions of where to enter, exit, and sit in our effort to create the safest environment we can.
***
We take the greatest care to safeguard our guests, however participation in services and events is voluntary and your health is your own responsibility. By attending you are acknowledging the inherent risk of exposure to COVID-19 and you and any guests voluntarily assume all risks related to exposure to COVID-19 and agree not to hold The Worship Center or any of its elders, employees, agents, contractors or volunteers liable for any illness or injury.